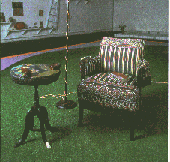 Reproduction of a picture of Carolyn Speranza's Master's Thesis Show at Ohio State University, Columbus, OH,May 1989.
Society for the Anthropology of Consciousness Annual Conference 1995
March 29-April 2nd -- U.C. Berkeley Faculty Club


PRELIMINARY PROGRAM
What follows is a tentative schedule For further information contact
Mira Zussman, Program Chair mzussman@sparta.sjsu.edu;
Anton Grosz, Local Arrangements Chair groszsf@aol.com;
Dan Moonhawk Alford, Chair DAlford@s1csuHayward.edu.
---
Note: Program is still preliminary and subject to change. Late addition as yet unscheduled: Sexuality and Consciousness IV: Where Did the Liminal Flowers Go? Richard Sorenson, Gyudmed Tantric Univ, India
---
(To Modernity)
Copyright © 1994-today Ovid C. Jacob & Mira Zussman