Kabbalah Group in SF, Week of July 20, 1995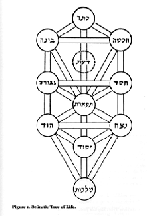 This week we had a guest speaker from Harvard Divinity School, Christi. We talked about Ascent and Descent





and 3 Worlds:
The Celestial World, that of Fire and Air.
The Middle World, the connecting aspects of + the connecting Tree thru the Lamed.
The Underworld, the World of Water and Earth.
There is dynamic harmony:
In the Celestial World we learn about Alchemical Water
In the Underworld we learn about Alchemical Fire.
The purpose of





Ascent and Descent are
"Black" - Fear School (Control)
"White" - Wonder (Adjustment, Harmony)
Methods of Ascent, Vehicles




Chariots: Chemical Allies are NOT recommended, since we don't always get where we want. Plus, we need a context. Need the Water Allies.

Christi introduced us the the work of Luce Irigaray, a feminist philosopher. Christi's own work involves studying possible connections between Paleolithic worship and present-day Neo-Pagan Goddess worship.

I pointed out that within Judaism, a remnant of Goddess worship can be found in the Purim cookies, Hammentaschen. These are triangular-shaped cookies, usually filled with fruit jam: rasberry, strawberry, apricot. The shape suggests the vagina, which recently Judy Chicago has made quite explicit in her painting "Dinner Party".

We noticed that the name in Hebrew for the first woman, Eve, is




which can be re-arranged so that it looks like a headless figure. This makes sense (?) if we recall that She made the Gods out of her head! This is an interesting speculation. It is also interesting to notice that this name is very close to




which is life force.
---
Kabbalah Group |
Previous Week |
Next Week
---

Copyright © 1994-today Ovid C. Jacob